These are a Few of My Favorite Things...
We like to support small business when and where we can. By doing so, money spent locally contributes to the local economy and helps create jobs. Additionally these small mom & pop shops are a great place to discover locally made products. For those trying to avoid crowds this time of year, you'll enjoy a faster, more personal shopping experience.
With so many positive reasons to shop locally, we are sharing some of our favorite Small Businesses right here on the South Shore.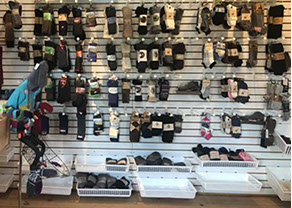 1. Hillcrest Alpacas - 338 Old Fall River Road, Dartmouth, MA. (508) 961-7464
Quality Alpaca fiber products. Socks, gloves/mittens, hats, blankets, clothing and more! The owners (Shirley and Roger) are super friendly and highly knowledgeable. You can also find some great stocking stuffers! Just in case you are too busy to make the drive, you can shop online. We love their products and highly recommend. Click for their website or on facebook
2. The Farm at Raven Brook - 137 Wood Street, Halifax, MA (781) 254-6958
The Farm at Raven Brook is a 30 acre Christmas Tree farm, specializing in Christmas tree services and year-round experiences
for the entire family. Owned and operated by Matt and Kimberly Campbell and their two sons, this long-time Halifax, MA
family is excited carry on the legacy of this farmland which dates back to the 1800's.
3. The Marketplace at Simpson Spring - 719 Washington St (Route 138), South Easton, MA (508) 238-4472
This is one of our favorite places! The Marketplace at Simpson Spring is open 6 days a week! The Company Store features
many locally sourced products and vendors including beef, poultry, veal, pork and other meats, cheese, pastas, coffee, nut
butters, pastries, breads, sweets, PLUS skin care products, pet products and so much more. While we are also open 8am to
4pm on Saturdays, from 10am-2pm we open the Marketplace up to EVEN MORE VENDORS. So many great gift ideas...and
dont forget to pick up a case of old fashioned sodas and true spring water!
4. Dunrovin Farm - 261 River Street, Halifax, MA (781) 294-1498
Our 23 acre farm has always focused on the Labrador Retriever. We have been raising Labs for more than 30 years. During
this time, we have seen many changes not just in the breed, but in health and nutrition. We watch trends and learn all that we
can to help ensure that our dogs are as healthy as they can possibly be. As a result, we opened our Health Food Store for Pets
back in 2011 and have grown tremendously since then.
5. Pet Foods Shop - www.petfoodsshop.com
Pet Foods Shop is also owned by Dunrovin Farm and is a great way to order all of your pet food and supplies from the
convenience of home, work; from your computer, laptop or cell phone. We carry most popular brands and ship via FedEx.
Shipping is free for all orders that qualify, otherwise shipping is $5.95 or less, depending on location.
6. Lake Girl Boutiques - Wolfeboro, NH
This one is not on the south shore, but is one of our favorites. Long time friend, Jen Osgood works hard to offer a
personalized shopping for all ages. Her attention to detail is above and beyond and her commitment to each client makes the
whole experience enjoyable. You can find everything from jeans, leggings, skirts, dresses, shirts, coats and more. Check out
her facebook page and shop at your leisure!